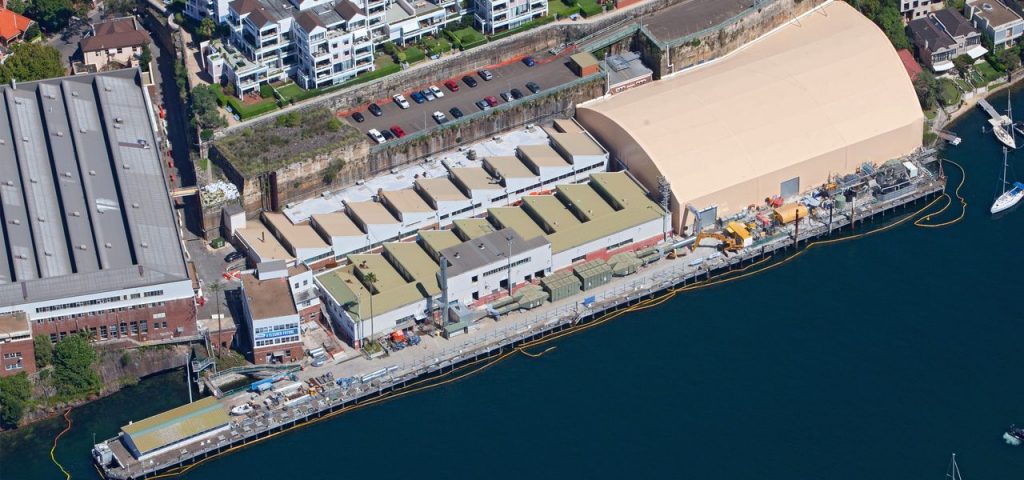 Project: Remediation of Former Manufactured Gas Plant (Coal Fired Gasworks)
Location: Platypus Site, Neutral Bay Sydney
Client: Sydney Harbour Federation Trust
Playtpus is a waterfront site located on the foreshore of Neutral Bay on Sydney Harbour.  A gasworks operated on the site from 1876 to the mid 1930s. In the early 1940s the site was resumed by the Commonwealth Government to establish torpedo manufacturing and maintenance facility as well as a facility for servicing naval vessels.  In the late 1960s the site was named HMAS Platypus and utilised as a navy submarine base until the site was closed in 1998.  In 2005 the Sydney Harbour Federation Trust took over the management of the site and began planning for the remediation of the site.
Since 2012 CONSARA has been engaged by the Trust as the Contaminated Land Technical Advisor and On-site Remediation Advisor and Representative prior to and during the planning and undertaking of remediation of the site.
This role has comprised undertaking a large range of assessment works (soil, sediment, soil vapour, groundwater, seepage water), inputs into remediation planning and procurement of contractors, advice during obtaining of specific immobilisation approval and other relevant environmental licences; regular inspections and provision of regular and ongoing daily advice and reports to the Client; identification of any technical and commercial issues relating to the remediation contractors works including, but not limited to, methodologies and materials handling, treatment etc; technical review of reports prepared by remediation contractor and their consultants and any required verification sampling and analysis; liaison with NSW EPA Accredited Site Auditor and NSW EPA;  assessment and review of all occupational health and environmental monitoring works; part of an expert independent technical panel that reported directly to the Client in relation to the results of the remediation works; involvement in community liaison; post remediation work advice and on-site works in relation to site completion works and management of long-term legacy issues associated with the site and preparation of final closure reports required as part of the final validation of the remediation works.